Blog of Zoe at Galien Valley
Galien River valley, southwest Michigan, North America
Nature
Nature Notes:
southwest Michigan, Weather and Phenology

Points, Goals, Missions...:
● to become increasingly more aware of goodness, oneself (one's unselfish self), nature, people, one's local community, and the world.
● to be Nice in 5 Ways, to be Holistic, and to support Community CEEE (Culture-Education-Ecology-Economy).
● to live, learn, work, do science, and do art in ways that serve goodness by helping to sustain, and enrich communities, people, and nature.
● More ...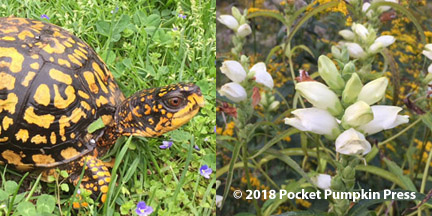 Above photo: box turtle and turtlehead wildflower,
in Michigan.

Nature Notes, in my Daily Blog, include:
8 AM temperature and weather
2 PM temperature and weather
Phenology that I observe in southwest Michigan. Phenology includes the change of plants and animals from month to month or season to season, throughout the year. For example, an apple tree has flowers and new leaves in the spring, dark green leaves and ripening apples in the summer, ripe apples and leaves fall off in the fall, and the branches have no leaves in the winter. Be aware of your local phenology: when do certain plants flower?, when do certain birds migrate? etc.
Also, see my photos of nature in southwest MI.
Nature Entries and Archives: click the dates to see nature notes from other months:
May 2018, June 2018, July 2018, and Holistic Days.
See my Daily Blog, which includes nature.

See my Holistic Days, which include nature.
See my Holistic Landcare.
See how nature and ecology relates to education and the economy in: The Changes Needed in Education and the Economy: 7 Goals and Success Indicators of culture, education, ecology, and economy.
See 40 ways to sustain communities, people, and nature.
See photos of science, ecology, nature, and
prairie flowers in Michigan.