play, learning, native nature and wildlife,
social, cultural landscapes

The importance of play and nature in every child's education, health, and development is indicated in many sources (See z-hub's selected books on education webpage). Z-design specializes in landscapes of play and learning that connect kids and adults with the beauty, joy, inspiration, uniqueness, and vitality of native local landscapes in its projects such as family residences, homesteads, schoolyards, playgrounds, nature centers, and other institutional sites. Z-design's projects aim to help reveal play, nature, education, and beauty in the landscape. Z-design also provides clients with educational resourses to help them understand the local environment.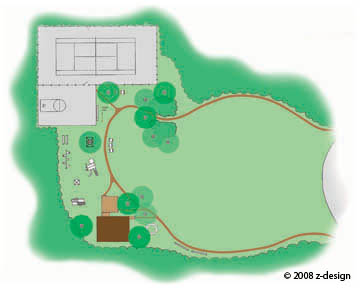 The above image is an example of one of the multiple preliminary plans for updating the existing recreation and nature area of an environmental camp.  Some play equipment, a kid's clubhouse (in brown), and the ball courts (in gray) are existing.  The plan aims to enhance the site's promotion of people's health, fitness, play, education, connection to nature, connection with a community, gorgeous surroundings, and joy.  Some of several proposed new features include: a path to unite the area, a native botanical garden, a picnic area, and play features which provide opportunities for a variety of types of play (open play, closed play, active play, passive play, complex play, simple play, etc.).
To get services from z-design and to get more information about z-design, contact z-design at z-design@z-hub.org